It's June, which means that (hopefully) golf courses are open and operating where you live, summer is upon us (if you're playing you should have bug spray AND sunscreen in your bag and they should be getting use- more on that later), and it also means that Father's Day is soon upon us (it's June 21st, which "should" have been the day of the final round of the US Open at Winged Foot).
However, that doesn't mean you can't spend money you don't have on dad (confession: to the best of my knowledge I do not have any children…and while I love Linus he's not shopping online for me…at least I hope so) this year to thank him and to celebrate his love of golf (if your father/grandfather doesn't play that's okay too).  (Un)fortunately, the people at Golf Digest have put together a "gift guide" for Father's Day.
I'll show you a few things and offer my own cheaper/better options on things any golfer that has kids would love.  These items haven't been curated nor are they bespoke.  They're nice ways to say Happy Fathers Day without going deep into debt.  Onward.
Seamus Sofa King Pure Set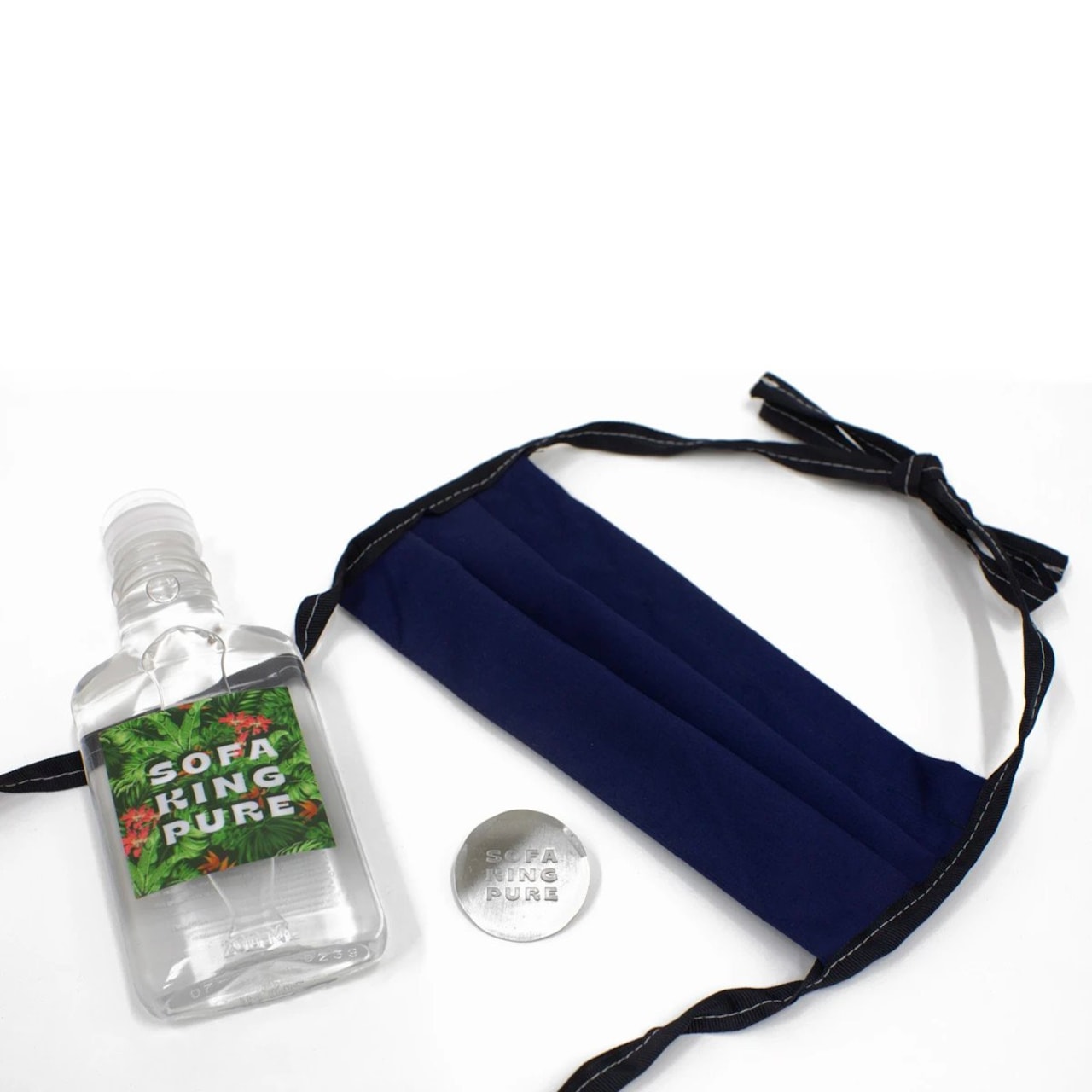 Price: $64 (all prices in US dollars unless noted).
They Say: Seamus Golf stepped up in March to make masks for those in need. Initially shipping to frontline workers before opening up sales to the general public, the golf company has shipped over 15,000 masks. Masks can be purchased alone or in this set that includes a stainless steel ball marker and hand sanitizer locally distilled near Seamus HQ in Oregon.
SGIC says: $64 for a mask, hand sanitizer and a ball marker.  Read that back.  Are you shitting me?  Oh, but it's locally distilled hand sanitizer! GTFO. Hand sanitizer should cost a buck or two except that Big Sanitizer is now taking over. You're not using it to make a martini or a sidecar.
Smith & Sinclair Whiskey Club Alcoholic Gummies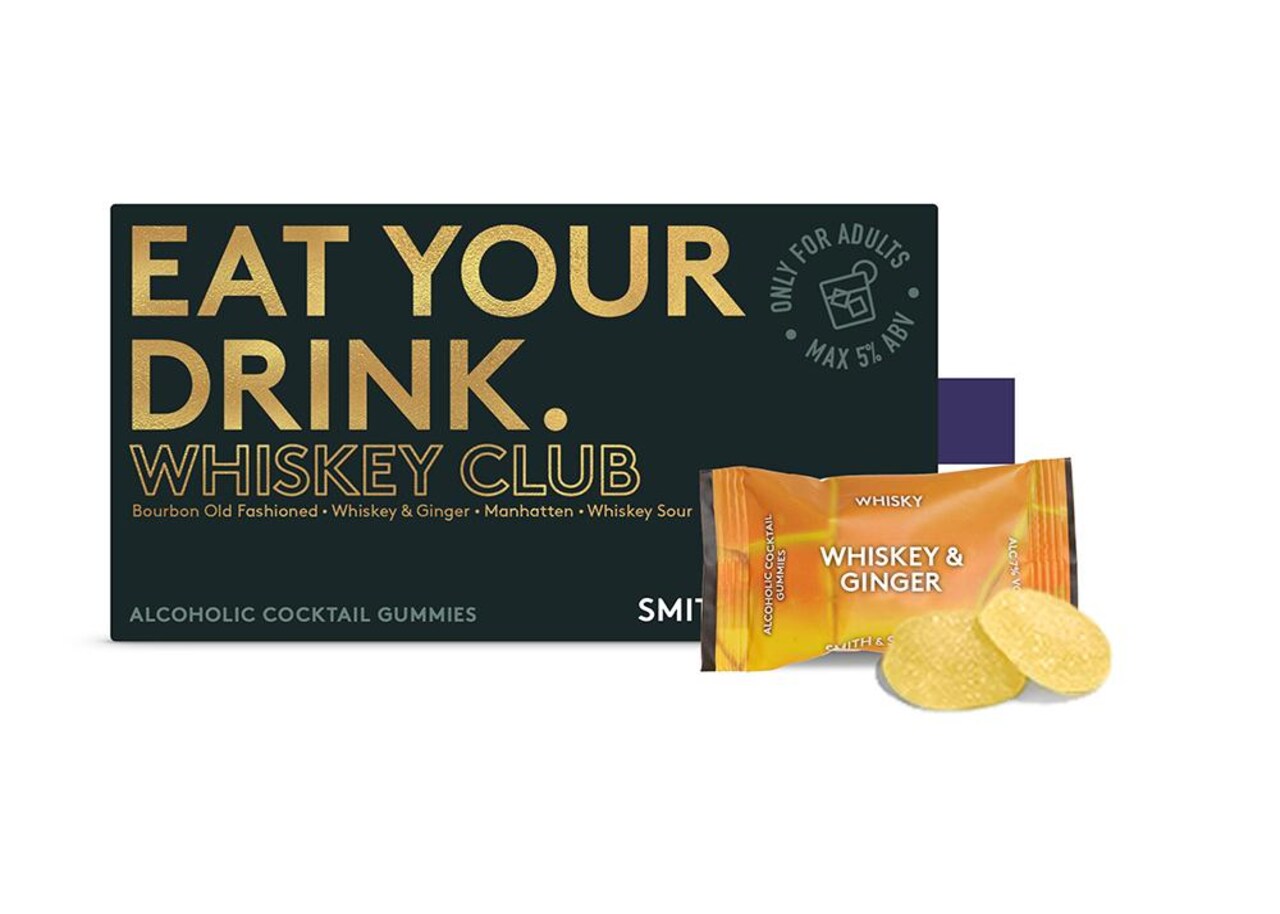 Price: $25.
They say: Move over CBD gummies, whiskey gummies are here to make a splash. The package includes ten gummies of assorted cocktail flavors including old fashioned, whiskey ginger, Manhattan and whiskey sour. And with 5 percent ABV per gummy, these alcoholic candies really pack a punch.
SGIC says: Nothing says America 2020 like this product. It's whiskey for people who don't like whiskey, dumbed down to a kids' candy.  Day drink for the love of everything good!  With actual whiskey!  Pour two (or three, or four) fingers in a glass.  Add an ice cube if you're inclined.  Drink.  Repeat.  By the way, 5% ABV is beer.
Bonobos Fore Father Bundle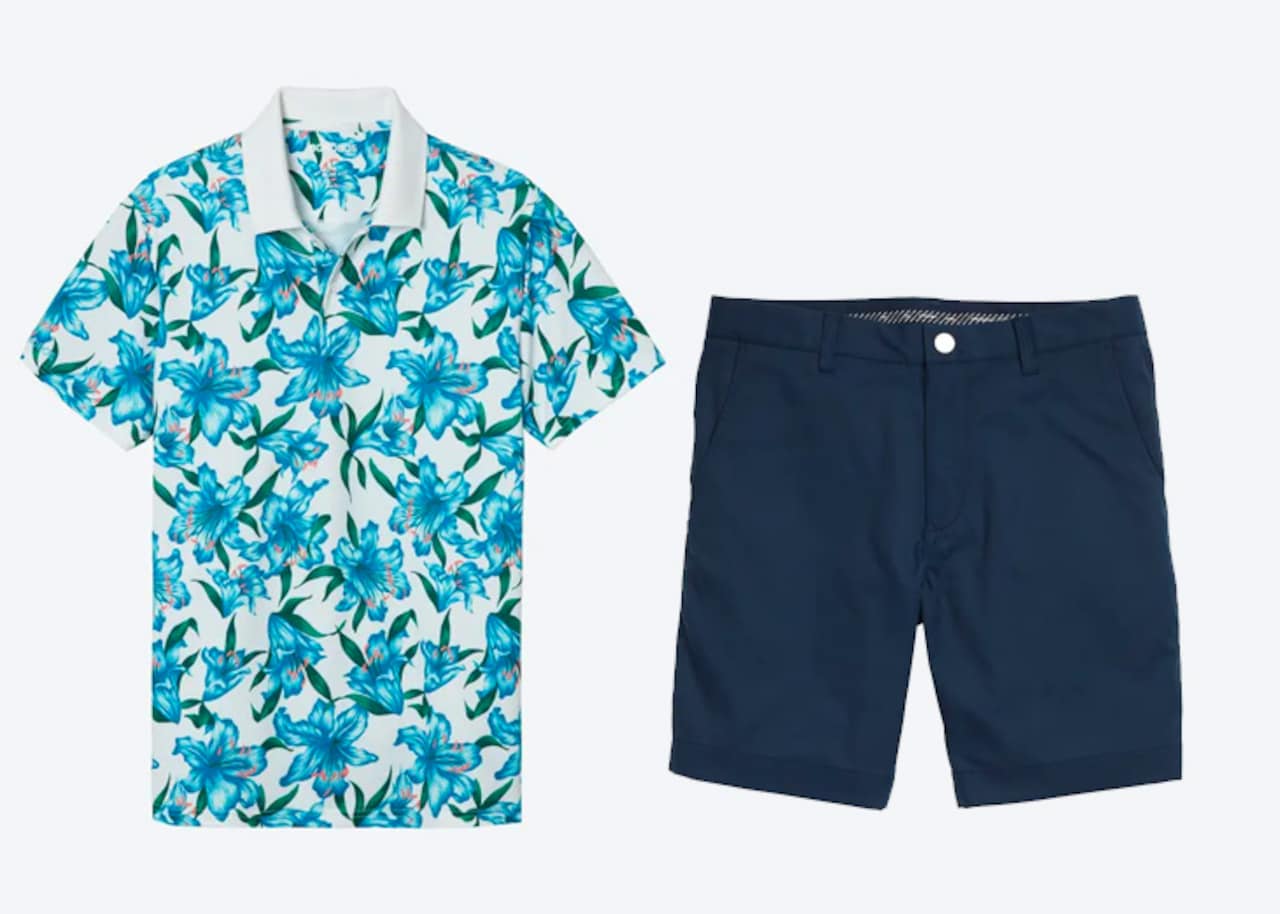 Price: $87 for the shorts and the shirt.
They say: Bonobos is running a Father's Day promotion so you can set dad up with a full golf outfit, without breaking the bank. Use the code thanksdad and get 40-percent-off two items at checkout. Pair a bold golf shirt—like this turquoise floral Performance Golf Polo (normally $68)—with a simple navy short—like the upscale Highland Golf Shorts (normally $78)—for a stylish and summery look dad'll sure to get a few compliments on.
SGIC says: Perfect for your Duffy Waldorf cosplay fantasies or sticking it to Lumberg during Hawaiian Shirt Day.  Oh never mind-we all work at home now so just wear sweatpants or a god damn onesie and show everyone you've given up.  The shorts aren't bad.
G/FORE Skull & T's Embossed Full Zip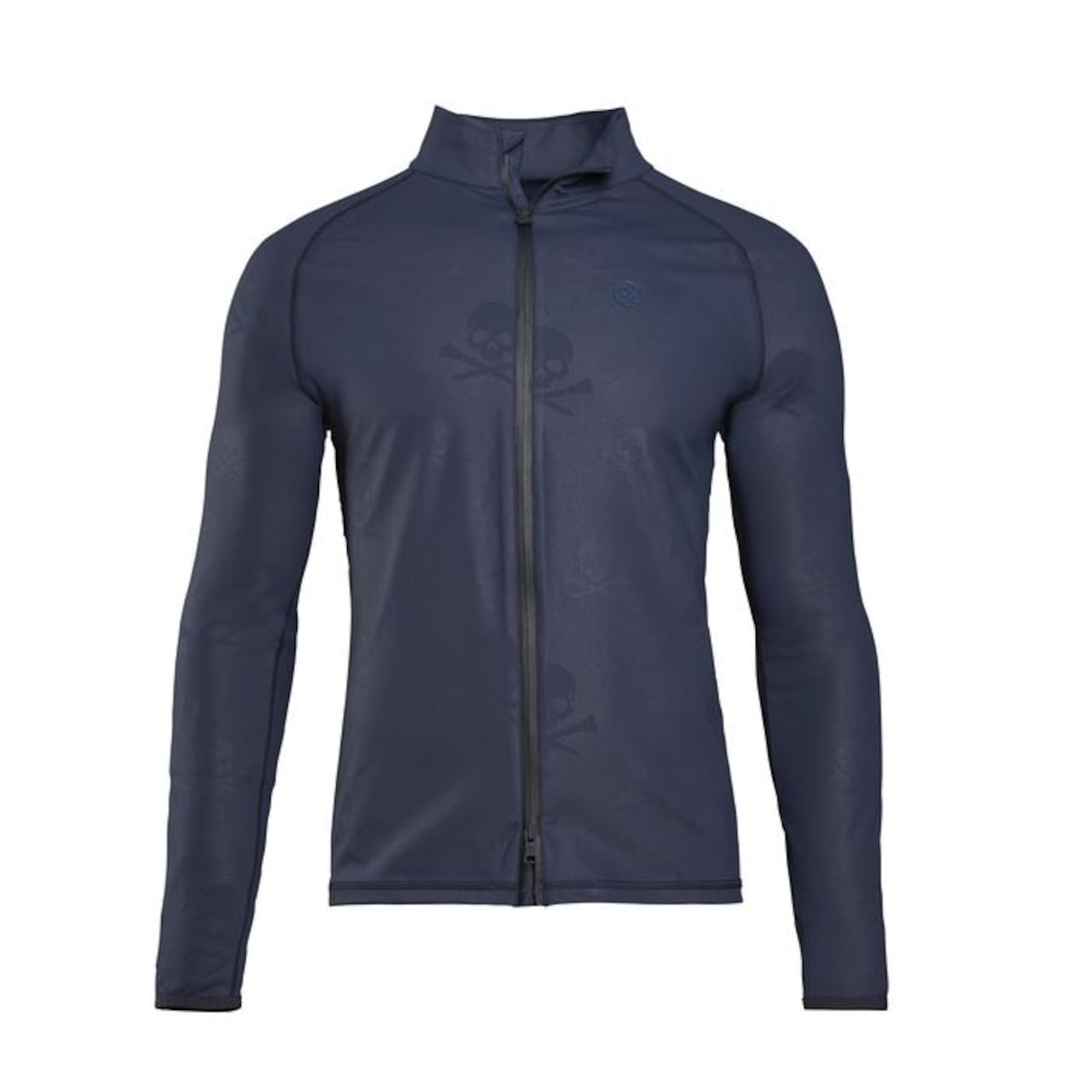 Price: $165
They say: This midlayer is made with a technical jersey fabric and has an extra soft interior to add a bit of warmth on cooler mornings. The subtle skull pattern is on-trend, without the risk of clashing with the rest of his outfit and the mock neckline adds a touch of refinement to dress up any look.
SGIC says: If someone wearing this rolled up as your fourth it's a guarantee that they will claim to be an 8 handicap, play like a 22, and trot out every excuse imaginable (one of which will involve "I need to consult with my mental game coach"…okay, I have one of those- his name is Johnnie Walker), and will take 3 minutes to miss a 9- footer for a triple bogey.  They will have a staff bag and likely have spent more time thinking of what they were going to wear than they ever have on practicing.
Montblanc MB01 Smart Travel Over-The-Ear Headphones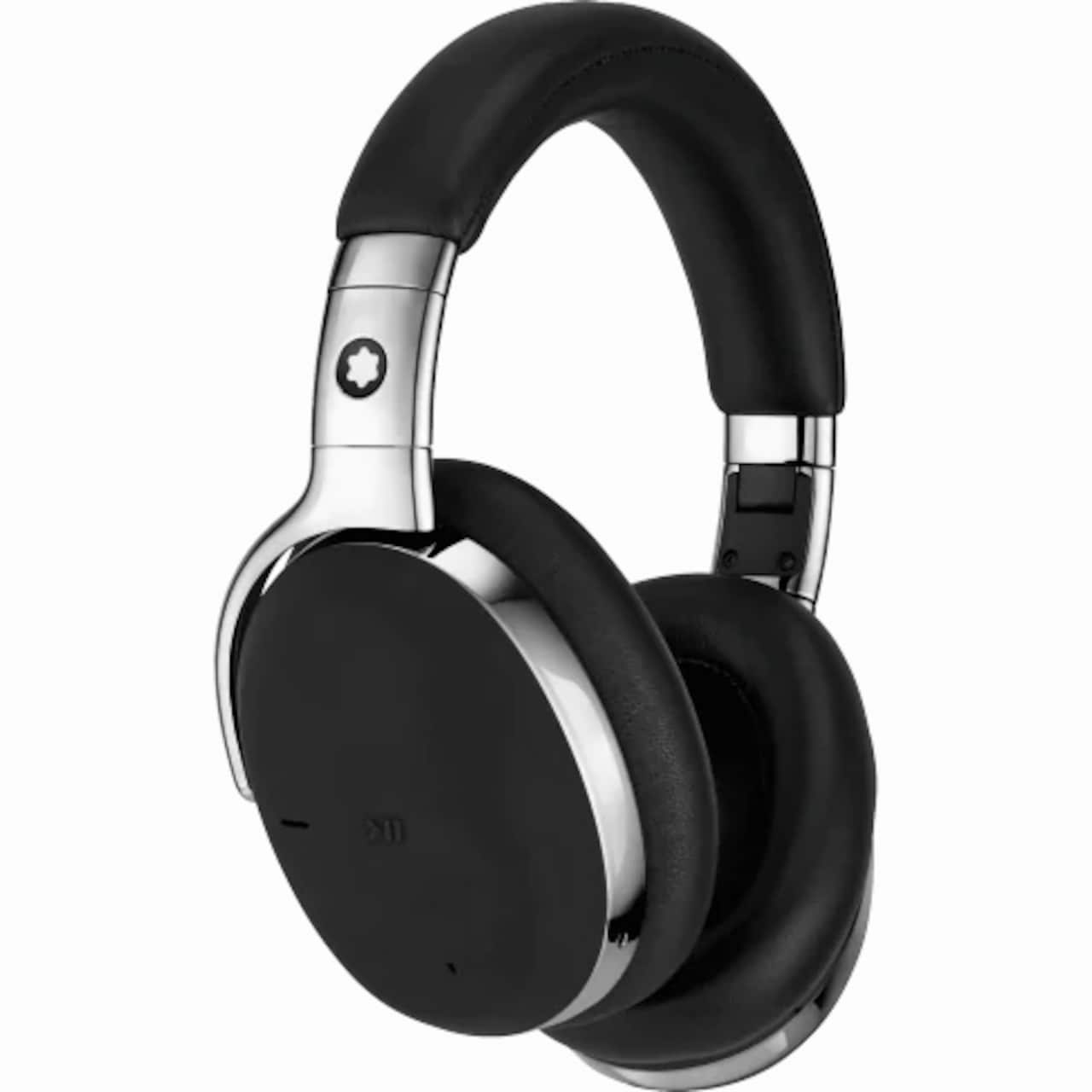 Price: $595. That's not a typo.
They say: These luxury headphones have upscale styling with all the high-tech features dad could need. Proximity sensors automatically pause or play audio when the headphones are taken on or off, have active noise cancelling built in and can be connected to a smartwatch.
SGIC says: Steely Dan and Nickelback never sounded so good.  Rock out to some Hootie and the Blowfish while the world collapses on itself.  Go ahead, go further in debt to spend $600 on headphones.  Dad will enjoy yacht rock in these.
Public Rec All Day Every Day Jogger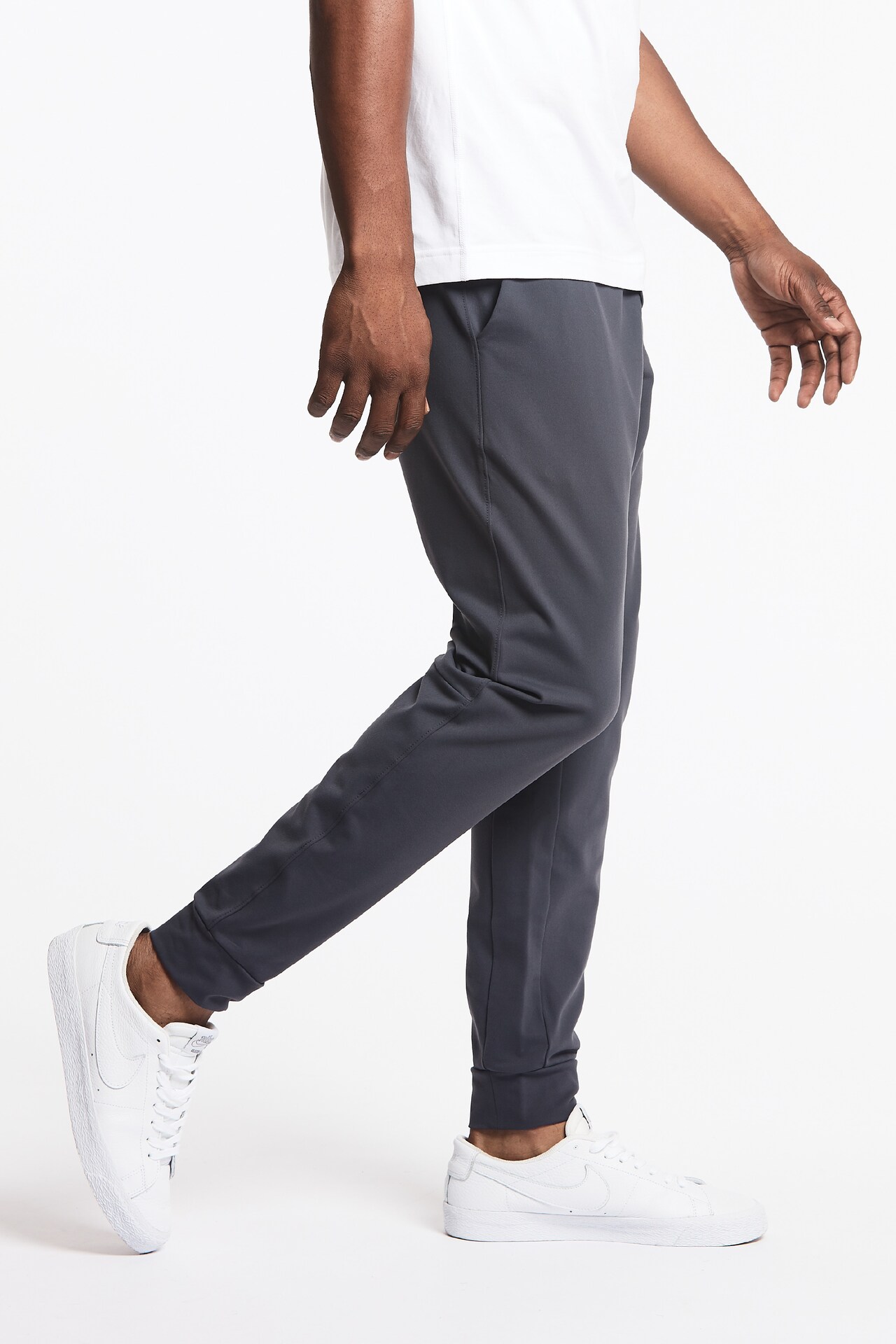 Price $98. Not a typo.
They say: Dad will love these cozy joggers that are golf-appropriate. The elastic waistband has an internal drawstring to maximize comfort, while maintaining a refined look. Made with a moisture-wicking, breathable fabric, the versatile pant is a blend of stretchy spandex and durable nylon that'll transition easily from the course to dinner.
SGIC says: They're fucking sweatpants that cost $100.  Big Sweatpant (and his young lovely friend Big Yoga Pant) are taking over.  And of COURSE you're going to wear sweatpants to a restaurant because screw it…just give up.  Quit trying.  No sense putting forth an effort for anything.  Is wearing pants or shorts with a belt that hard?  Still waiting to see a golf-themed Snuggie.
GLCO X Malbon Bucket Golf Hat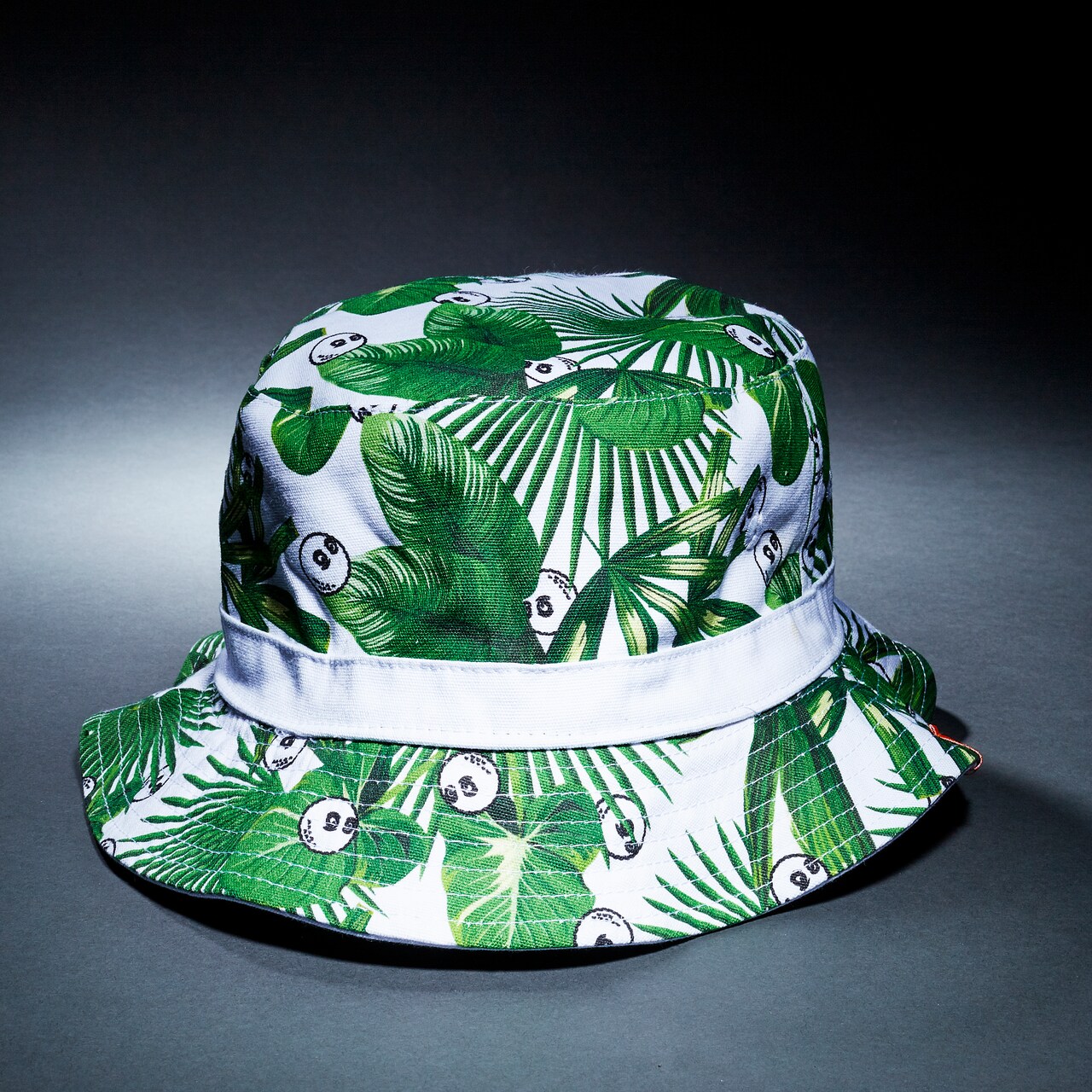 Price: $40 and a possible restraining order.
They say: Part of the exclusive Garrett Leight and Malbon Golf collection, this reversible bucket channels beachy vibes.
SGIC says: You should get one of these for free if you buy a FREE CANDY or FREE PUPPIES van to go along with the likely impending criminal charges.  Wear this to the beach and you might as well just get a "PERV HERE" sandwich board to wear. The official hat for people who own metal detectors and use them at the beach.  Wear this with that Hawaiian print shirt and blind people.
Puma Bomber Jacket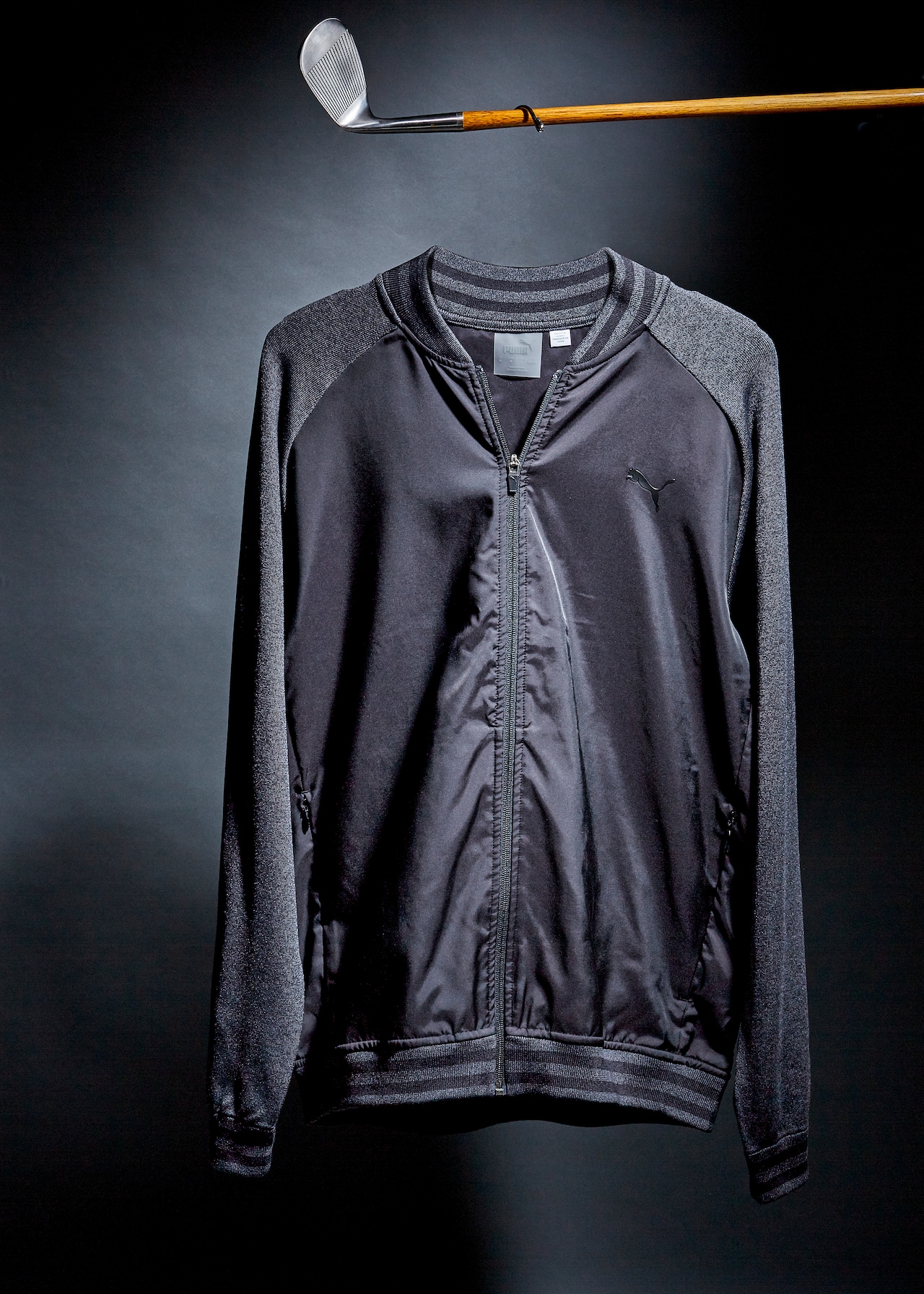 Price: $160.
They say: A stylish on- and off-course jacket with a retro feel. It's a great layering piece, especially for dads who need to add a little character to their golf looks. The knit sweater sleeves are cozy and perfect for cool summer twilight rounds.
SGIC says: Perfect for when you want people to think you appeared in season 1 of The Sopranos.  Should be part of The Paulie Walnuts collection.  Wear this to Starbucks and order an espresso and ask for some locally sourced gabbagool.
Lord Jones Old Fashioned CBD Gum Drops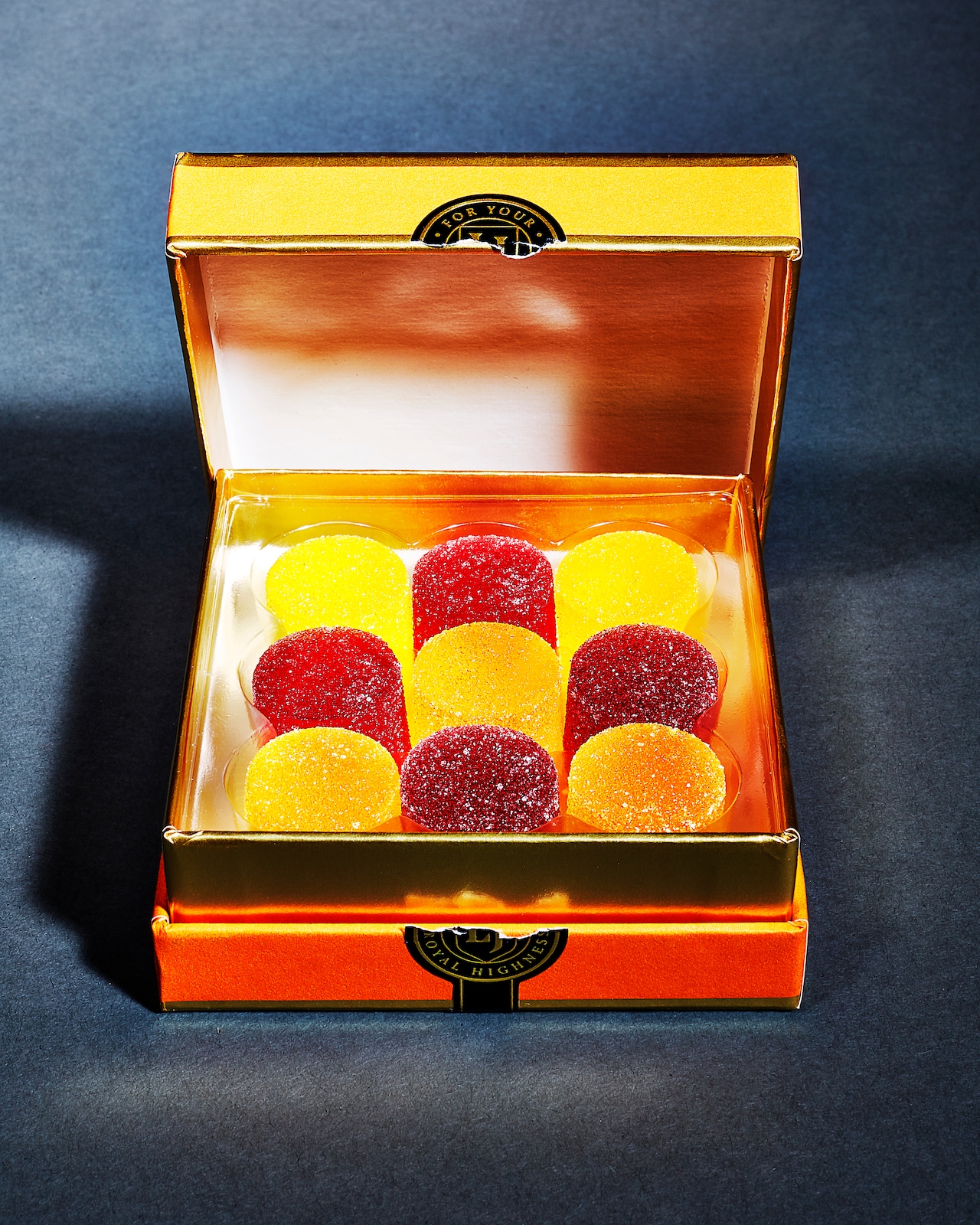 Price: $45.
They say: Each candy has 20 milligrams of CBD—a calming, non-psychoactive hemp extract that can provide relief from pain and anxiety. Plus, they come in fruity flavors.
SGIC says: At six dollars per gummy I should be getting baked on them and not have to worry about getting diabetes. Just buy some actual weed.  It's legal in most jurisdictions.  Or buy a CBD supplement (the one I take has 20mg of CBD and I don't have to worry about Wilfred Brimley showing up to lecture me about DIABEETUS).
Good, Good? Needlepoint Headcover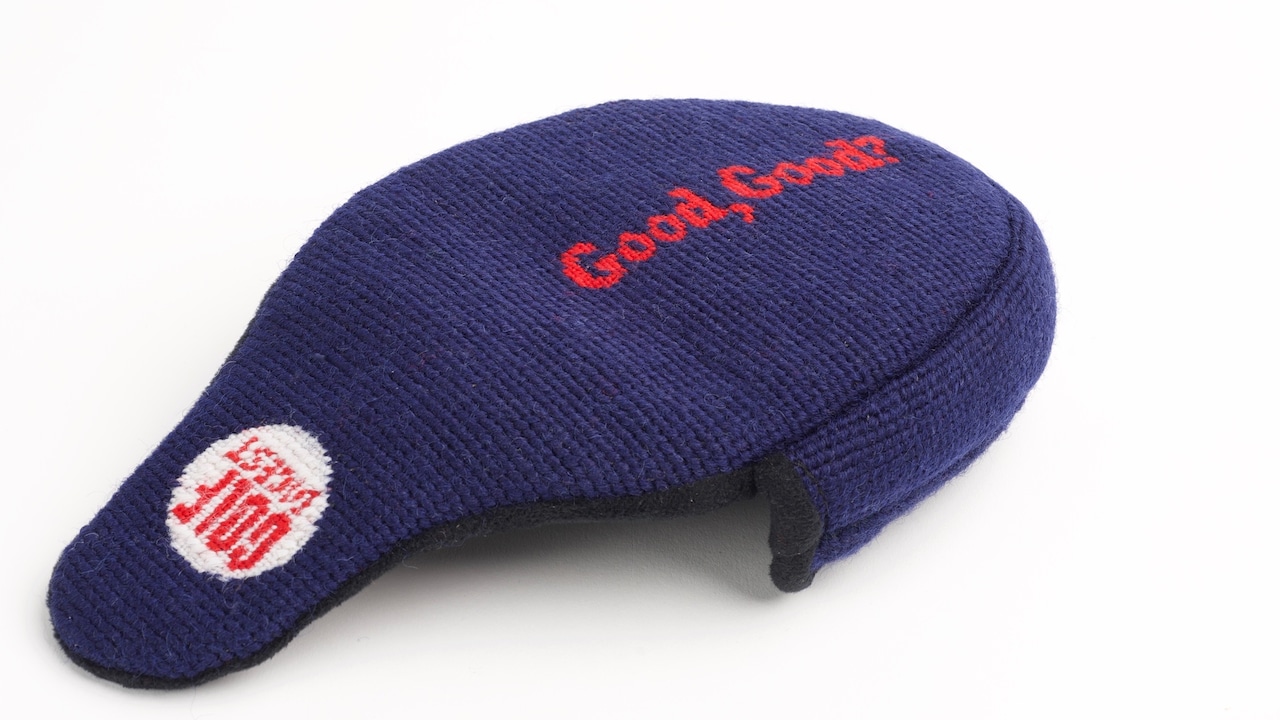 Price: $115 for a mallet-sized cover.
They say: For those more generous than most on the greens, protect your flatstick with this unique needlepoint headcover from the new Golf Digest SELECT collection. Hand-crafted by Needle Golf, this putter cover is available for blades and mallets. Available at  select.golfdigest.com
SGIC says: For $115 you could could add a few bucks and get him an actual new putter. Just saying.  Why promote a mediocre golf magazine?  In a couple years when these things don't sell they'll give 'em away with subscriptions.
Vineyard Vines Pescadero Houndstooth Performance 1/2 Zip
Price: $145
They say: In collaboration with Jim Nantz, this Vineyard Vines half zip will add a touch of sophistication to any outfit. The houndstooth pattern is refined and stylish, while the soft performance blend material has a ton of stretch for a comfortable wear.
SGIC says: Was there really some underserved segment of the population who wanted to spend $145 on something from the Jim Nantz collection?  Clearly, yes.  I want to buy a CBS blazer but ONLY if you include a flag pin AND a pocket square from the Jim Nantz collection. Burnt toast and "Sir Nick Faldo" never sounded so yummy.  Perfect for doing sponsor interviews in. Buy this, and your new safe word is "Hello Friends".
MOVING ON
Let's say that you don't weekend in the Hamptons, daddy doesn't run a hedge fund and you don't have a 7-figure trust fund.  You actually work during the week but you'd like to do something nice for dad that's golf related.  Here's a few ideas that won't break the bank:
A dozen of his preferred brand of balls.  Sneak a peek in his golf bag to see what he plays.  Cost? $30-$50.
Buy him a round of golf at an upscale daily fee course. You're talking $90-$250 depending on where but it's a nice treat for him.
Tickets to a PGA/LPGA Tour event in your area (if they're allowing fans). Seeing an event live really lets you see just how good the pros are, and most of them are actually really nice people and it's a nice "all day" getaway.  Cost: $25-$100.  He can buy himself a tournament shirt and have a great time.
If he's walking but carrying his bag, a push cart is a FANTASTIC option.  They run $75-$250 but they fold up easily and he'll still be able to walk but not have to carry so it will be easier on his back. Ogio, Sun Mountain and Clicgear make great products.
If you're really tight with money (and that's okay), get him some sunscreen and bug spray.  Trader Joe's sells a spray-on sunscreen that's sweatproof for $6.00 (I use it and it's great; cheaper than other brands and easier to wash off).  Off! makes a bug spray that goes on easy (aerosol can) that doesn't reek and does a good job of keeping bugs away; it retails for $6-$9 depending on where you shop.  So for $15.00 you can hook dad up with a couple things he should be using (seriously- he needs to be using sunscreen and bug spray).
SONG OF THE DAY
Since I'm not going to be able to see New Order in concert (their tour dates all canceled due to COVID-19), enjoy one of their best known songs. An actual music video, directed by Johnathan Demme (yes, that one).