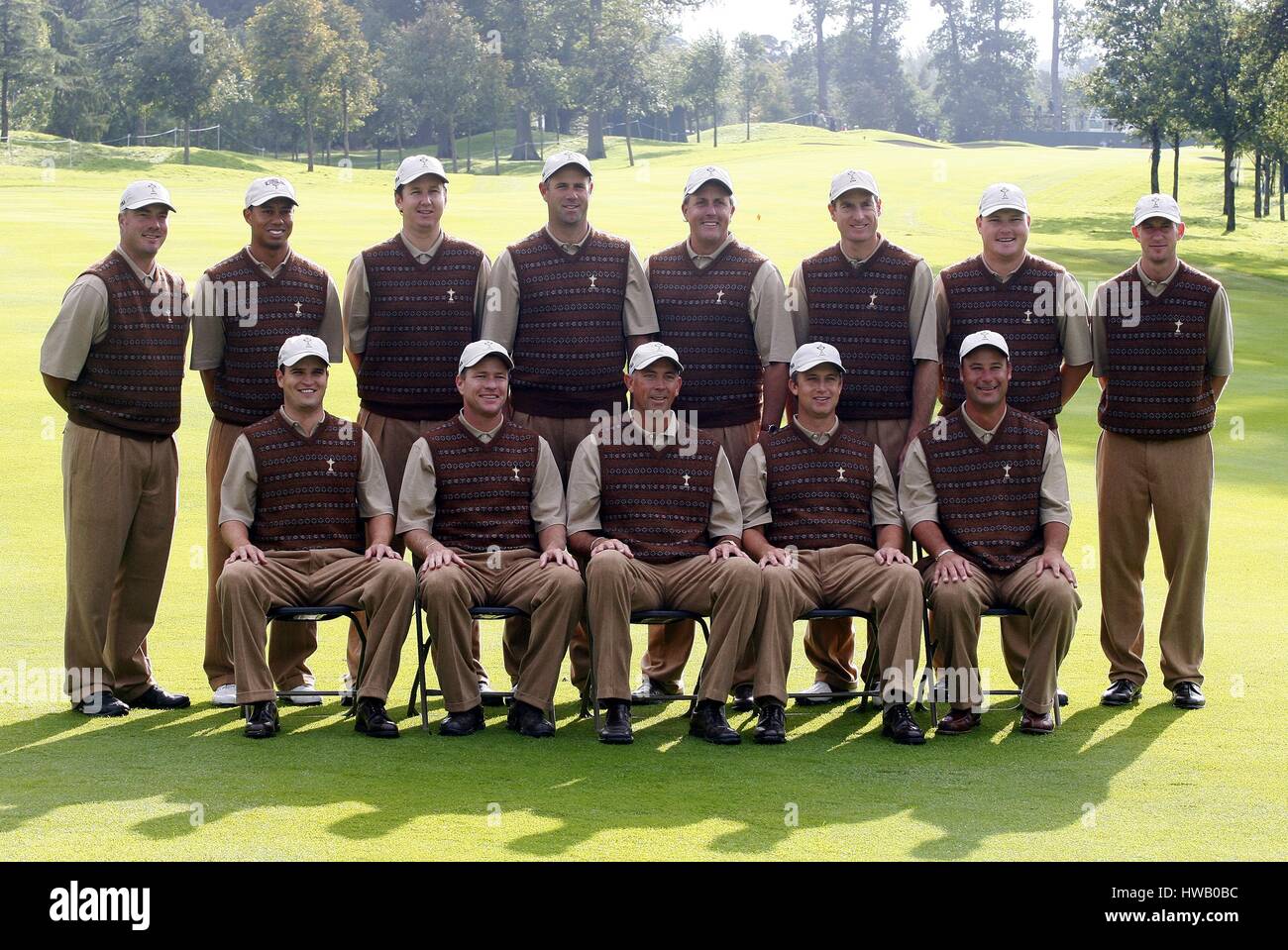 The 2006 US Ryder Cup Team photo. Majestic in its earth-tones (photo property of Alamy).
As everyone takes a collective breath from the thrilling conclusion that was the final round of the 100th USPGA Championship at Bellerive, the next major event in the golf calendar is the Ryder Cup from September 28-30 in France (no disrespect to the FedEx Cup Playoffs, but the Ryder Cup is something else entirely different).  The US will be looking to win on foreign soil in a Ryder Cup for the first time since 1993 while Europe will want to reclaim the trophy away from the US team.
With qualifying for Ryder Cup spots completed, this means that 8 of the 12 spots on the US team are filled, leaving Jim Furyk in charge of picking the last 4 spots in early September.  The players who have qualified so far are as follows: Brooks Koepka, Dustin Johnson, Justin Thomas, Patrick Reed, Bubba Watson, Jordan Spieth, Rickie Fowler, and Webb Simpson.
Players being considered for the last 4 spots are (in order of ranking) Bryson Dechambeau, Phil Mickelson, Tiger Woods, Xander Schauffele, Matt Kuchar, Kevin Kisner, Tony Finau, Kyle Stanley, Bryan Harman, Kevin Na, Gary Woodland and Zach Johnson.  Jimmy Walker (#24) and JB Holmes (#31) are also rumored to being considered.
In order to make the best decision possible, Jim Furyk with his assistant captain Steve Stricker conducted interviews with each player.  They were supposed to be private, but SGIC spies were successful in planting a wireless microphone and obtained tapes of those conversations; the transcriptions appear below.  And lordy, there are tapes.
Jim Furyk (JF): Well, Steve, we really have a tough job ahead of us today.  We have 14 world-class professionals to talk to for only 4 spots.  Any thoughts?
Steve Stricker (SS): Yeah. Just do what I did last year.  Take the best players.  Why are you overthinking this?  Didn't Alan Shipnuck say we were in an era of US dominance?  I mean, he's smart, right?
JF: Seriously?  That International Team was awful.  Hal Sutton could have put his cowboy hat back on and captained our boys to a win.  The Europeans are a lot better so we have to be stronger from 1-12.  Speaking of which, how do you think I'd look in a cowboy hat.
SS: Ridiculous.
JF: I disagree.
SS: Well, let's talk to these guys and see what they have to say.
JF: Sounds good.  Bryson, come on in.
Bryson Dechambeau comes in wearing his trademark Hogan cap, a lab coat and carrying several scientific instruments.
JF: Bryson, why do you think you should be a captain's pick for the 2018 Ryder Cup team?
Bryson Dechambeau: Well, I won the Memorial Tournament this year, and I won a US Amateur before turning professional and my calculations show that my chakra will come into peak bloom in late September.  My strokes gained average is up nearly a stroke over last year.
JF: And then what happened?
BD: Things went okay, I guess.  I mean, I finished 9th in the standings behind Webb Simpson!
SS: Minus your temper tantrum.  Finishing behind Webb isn't really a selling point.
There's a door exploding as Tiger Woods kicks the door in holding two cans of Monster energy drink…he drinks one of the cans in one large chug and throws the empty at Bryson's head.
Tiger Woods (TW): Oh, that's nice nerd boy. You won a US Amateur.  I have 3 of those.  In a row.  You won the Memorial?  Isn't that nice.  I've won it 5 times.
BD: You're also a lot older than me.
TW: And better.
JF: Tiger, if you can just wait your turn, we'll get to everyone.
TW: (grabs other can of Monster, chugs it in one move) Jim, you will put me on the team. NOW.
JF: I don't know.  Steve, what do you think?
SS: Tiger, how does your back feel?  Can you hold up for all 3 days?
TW: I don't know (loud noise as he turns his hat around, chugs a 4th can and proceeds to bench press an 800 pound anvil that just happened to be in the room).  Pretty good I suppose.
JF: Tiger, I'm concerned because you've only been a part of one winning Ryder Cup team.
TW: I'm not. Jim, the only reason you have two Ryder Cup wins to my one win is because I was injured in 2008 after I won the US Open on a broken leg.  You know damn well I'd have been on the team.
JF: I shot a 59 and a 58.
TW: 14 majors, not counting my 3 US Amateur wins.
JF: I won a US Open.  I mean, doesn't everyone have a US Open win?
A loud "screw you both" is heard from outside the room in a voice that sounds very much like Phil Mickelson's voice.
SS: Guys, come on. This isn't working.  Bryson, how are you going to handle hostile crowds in France?  A European Ryder Cup crowd can be pretty daunting.
BD: Well, I did a statistical regression analysis on that and my analysis shows that their crowds are actually quite tame.
SS: Your stats are wrong.
JF: You'll have to give up that stupid Hogan cap if selected.
BD: Wow…that's a total buzzkill.  Wouldn't the entire team look good wearing those?
TW: Only if we wear blade collars.
SS: No Hogan caps, no blade collars, and ixnay on the Miz-zay.
JF: Bryson, I'm really concerned that their fans are going to get under your skin.  Hopefully none of the players in contention for captains picks have done anything that's garnered worldwide ridicule this summer…
(Noise coming from outside the room getting progressively louder playing "Ole, Ole Ole Ole, Ole, Ole").  Phil Mickelson, wearing a bolero jacket, chaps, a KPMG cap and a dress shirt strolls in while dancing.  The dancing goes on for several minutes much to the annoyance of everyone in the room.
Phil Mickelson: Hey, everybody!  Who's ready to defend our Ryder Cup win from 2016?
All: Phil, no. Just, no.
PM: Come on guys.  Jim, I called the Mizzen and Main guys to have some stuff worked up for this year.  You KNOW you want this.
TW: Does Mizzen and Main now do blade collars?  Let's say I'm asking for a friend.
PM: I don't know, Tiger.  Let me ask them (the audio sounds like he's pulling out his cellphone); Siri, call Mizzen and Main.
JF: No, Phil, I don't.  We already have uniforms.  Steve, was he like this last year?
SS: No; he was busy taking selfies after the 41st straight time Kuchar beat him in ping pong.  Honestly I just let Tiger do half the pairings; I couldn't find him a pet squirrel.
TW: Steve's good at taking suggestions.  Actually, Jim, I have an idea.  How about you just let me run things.
PM: Jim, I swear if you make us wear that godforsaken Chiliwear crap, my press conference after Sunday's singles will make my 2014 rant look tame.
TW: Does Chiliwear offer a blade collar option?
JF: Not going to let that one die, are you.
TW: Not a chance, unless you decide to pick Club Pro Guy as an assistant captain.
JF: Okay, you three go sit in the room next door while I call in the next candidates.
Xander Schauffele, Matt Kuchar, Kevin Kisner and Tony Finau walk in.
JF: Who are you people?
Xander (XS): I won the Tour Championship last year.
Matt Kuchar (MK): I almost won the Open Championship last year and I'm the best ping pong player on tour.  Ask Phil.
Kevin Kisner (KK): I'm competitive every week.
Tony Finau (TF): I rolled my ankle at Augusta and still finished T10 and I'm usually on the first or second page of leaderboards. Perhaps you'd like a display of strength and agility…
JF: Please don't.
MK: Lest we forget, Phil and I have done pretty well as partners since Keegan Bradley is only seen on the side of milk cartons these days.
XS: I've been competitive in all 4 majors.
KK: I tied for 2nd at the British Open.
JF: Let me think about it.  Who else is out there?
Kevin Na, Gary Woodland, Zach Johnson, JB Holmes and Jimmy Walker walk in.
JF: Hi fellas.  Why are you all here?
Zach Johnson (ZJ): Well, speaking as the only guy with multiple majors, we think you should consider one or more of us for those captain's selections.  You need someone who's won a major overseas.
JB Holmes (JB): And someone with Ryder Cup experience.
Jimmy Walker (JW): I'd say a PGA Championship win is what you need.
Kevin Na (KN): People will literally stab themselves in the eye to avoid playing with me.
JB: Me too!  Apparently people hate it when I take 4 minutes to lay up.
KN: Or become a weapons-grade head case on the tee.
JF: JB, just leave. Please. Now.
JB: C'mon…
TW from adjacent room: JB, I think you were asked to leave. I still have a few cans of Monster over here. I think it's best you leave now.
(JB Holmes leaves room muttering to himself)
ZJ: Why do people throw Propecia at me?
TW: Beats me, but if you don't want it I know someone who will take it off your hands.
Gary Woodland (GW): How about some feats of strength to decide this?
JF: I've made up my mind.
SS: Thanks for including me in your thought process.
JF: Thanks for being overly passive-aggressive.
SS: Whatever. Ask me what it's like to captain a US side to victory.
JF: Okay, here's how it goes.  Tiger, Phil, Kuchar, and Xander.  You guys are in.  Everyone else, thanks for coming.  Zach, I'd like to have you be an assistant captain.  Tony, you're my 13th man so if anyone withdraws or gets hurt prior, you're in the team.
BD: Seriously?
JF: Yes.  Everyone, thanks for showing up today. Let's all remember that regardless of anything, we all want the US to win in Paris and bring the Ryder Cup back home.
SS: What we really need is someone we can all rally against.
JF: I agree.
SS: Someone who will really cause the team to work together.
JF: Are you thinking what I'm thinking?
SS: I am.
JF:  Great. It's good to know that with everything going on, we still have one person who we can call on who we know will get the team properly motivated to go out there motivated to show them.
SS: You want me to call or do you want to call?
JF:  Let's do it together.  We'll use my phone.
JF/SS together: "Hey, Brandel, we need your help!"
SONG OF THE DAY #1
Johnny Marr still has the heater.
SONG OF THE DAY #2
Australian Rugby League hasn't always been the biggest bunch of geniuses on the planet, but this is some legendary stuff.  This is an OFFICIAL promotion. The 80s' were weird, man.